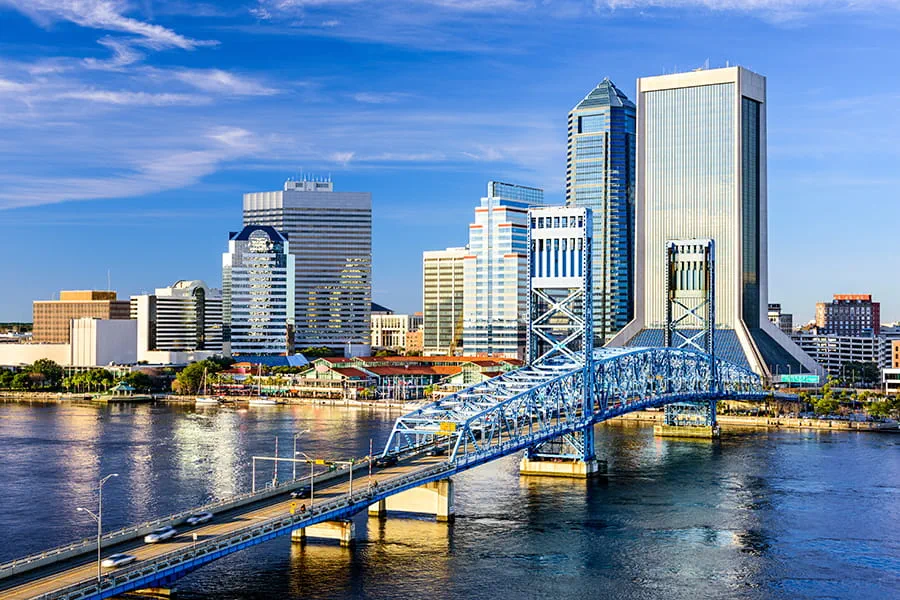 Surnommée JAX, c'est la grande ville du nord-est de la Floride, et la plus vaste cité en superficie de tous les USA continentaux (seule Anchorage, en Alaska, est plus étendue). C'est une ville qui n'est pas désagréable mais qui ne possède pas véritablement d'attrait touristique et seul le quartier des buildings de Downtown offre quelques animations (principalement le long de la rivière St Johns et sur West Adams Street).
Les attractions principales sont le Museum of Contemporary Art et le Cummer Museum of Art and Gardens, qui possèdent de beaux jardins au bord de l'eau.
A l'écart du centre, sur le littoral, les plages de la ville, plusieurs stations balnéaires regroupées sous l'appellation de Jax Beaches, sont nettement plus animées et sont les premières destinations touristiques de la ville. On trouve la chic Ponte Vedra Beach, aux belles plages peu fréquentées et bordées de grandes maisons, la sympathique Jacksonville Beach, et les jumelles de Neptune Beach et Atlantic Beach, plus fréquentées et familiales. Il faut savoir que le climat du nord de la Floride, même s'il reste agréable toute l'année, rend la baignade un peu trop froide en hiver.